Description
The Non-Contact Forehand Body Temperature Detector utilizes a high-precision infrared temperature sensor to measure the body temperature by measuring the Forehand or wrist of the human body. The device is equipped with a dual sensor of distance and temperature. The non-contact temperature measurement method is adopted. Through the cross-temperature algorithm of distance sensor and temperature sensor, the human body can complete the temperature detection without touching the device.
It has high accuracy, the temperature measurement error is less than 0.2 oC, and the single temperature measurement speed is less than 0.5 seconds, which is very suitable for the rapid temperature measurement and lifting in the adult flow area or place, without the need of security or medical staff holding a temperature gun to measure temperature, effectively improving the temperature measurement efficiency, improving the passage rate, reducing the number of medical staff, reducing the cost of personnel, etc., which is more widely applicable than the temperature gun.
The Non-Contact Forehand Body Temperature Detector can be used as a single machine, or as a supporting device for face recognition access control machine, access gate, security door, etc. the device uses DC12V power supply, RS485 interface output, which can be very convenient access to various access control equipment, and output the detected body temperature data to various access control equipment. In addition, the short-range body temperature detector can also be equipped with various intelligent terminals to upload the temperature measurement data to the cloud platform (or other software platform) through the network to record the body temperature data for subsequent query.
1. The product consists of two parts: temperature measurement module and display screen.
2. The Non-Contact Forehand Body Temperature Detector adopts double sensors, laser distance sensor + infrared temperature sensor, and detects the human body temperature through the cross temperature measurement algorithm of temperature and distance.
DISTANCE SENSOR
Laser distance sensor, accurately judge hand distance, improve detection accuracy and efficiency
TEMPERATURE SENSOR
High precision temperature sensor Cross analysis wuth distance date (Proprietaty temperature measurement algorithm), accurate conversion of human body temperature by
hand temperature
3. The detection distance is about 2-8cm, without touching the equipment.
DETECTION DISTANCE: 2-8CM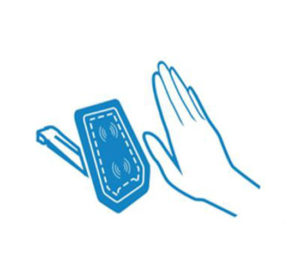 4. The temperature measurement speed is less than 0.5s.
5. After each temperature measurement, the buzzer will sound
a prompt sound.
6. The temperature measurement resolution of the equipment is 0.01 oC, and the temperature measurement error is ± 0.2 oC.
7. The equipment adopts double rotating bracket, which supports multi angle adjustment.The default alarm temperature of the device is 37.3 oC (99.14 oF), that is, if the detection temperature exceeds this temperature,
the device will send out the "drop…" alarm The sound is 5 seconds.
Installation mode can be wall mounted, placed on the desktop,
or fixed to the channel gate and security door, which is convenient and flexible, applicable to various scenarios.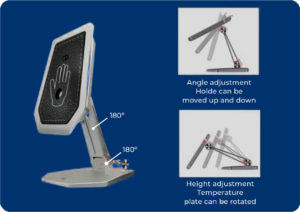 | NON-TOUCH DESIGN | AVOID CROSS INFECION |
| --- | --- |
| FOREHEAD TEMPERATURE GUN | HAND TEMPERATURE MEASUREMENT |
| Human Temp 30 °C- 45°C | remote supervision to avoid cross infection |
| high labor costs | reduce labor costs |
| low pass efficiency | high pass efficiency |
PROJECT/ PRODUCT
Hand temperature
measurement
Forehead
Thermometer
Use method
Can be fixed on desktop, wall, gate, security gate,etc., temperature can be measured when hand reach out
The temperature can only be measured by hand holding
Temperature sensor
Medical grade
Medical grade (part of them is quality products)
Temperature measurement error
±0.2
± 0.2 (part of them is quality products)
Temperature measurement distance
2-8cm
1-3 cm
Temperature measurement speed
Less than 0.5s
1-3s
Operation method
No assistance
Need to rely on others to hold and aim at the person's head and other parts, pccupying human resources
Efficiency
High efficiency
Inefficient
User experience
Excellent
Poor
Abnormal alarm
Yes, automatic alarm
Needs manual observation
Data output
It Can ouput and record data
No data output
| ITEM | NOTE |
| --- | --- |
| Temperature measurement mode | Single point temperature measurement |
| Range detection | Laser |
| Temperature measurement rate | 0.5~0.8 sec |
| Maximum detection angle | 5° |
| Discrimination of temperature measurement | 0.02oC |
| Accuracy | ±0.2oC |
| Temperature measurement distance | Distance between palm and equipment: 2-8cm |
| Buzzer | Built in buzzer |
| ITEM | NOTE |
| --- | --- |
| Measurable temperature range | -10oC~100oC |
| Optimum working environment temperature | 15oC~40oC |
| Device interface | Support RS485 output |
| Power supply voltage | DC12V |
| Working current | 0.2A |
| The power adapter | Equipped with one AC220V to DC12 power adapter |
| Equipment dimethine | 325*180*60mm |
| Package size (single set) | 375*215*85mm |
| Weight (single set) | 1.8kg |
Download the detailed technical specifications for this product: